What is Lamp Holder-: The function of holder is to hold lamp and connect to supply terminals. They are brass with porcelain insulation or these may be made of, Bakelite melting point of these metal might be as low as 180 °C (360 °F).
Different type of lamp holders may be classified as under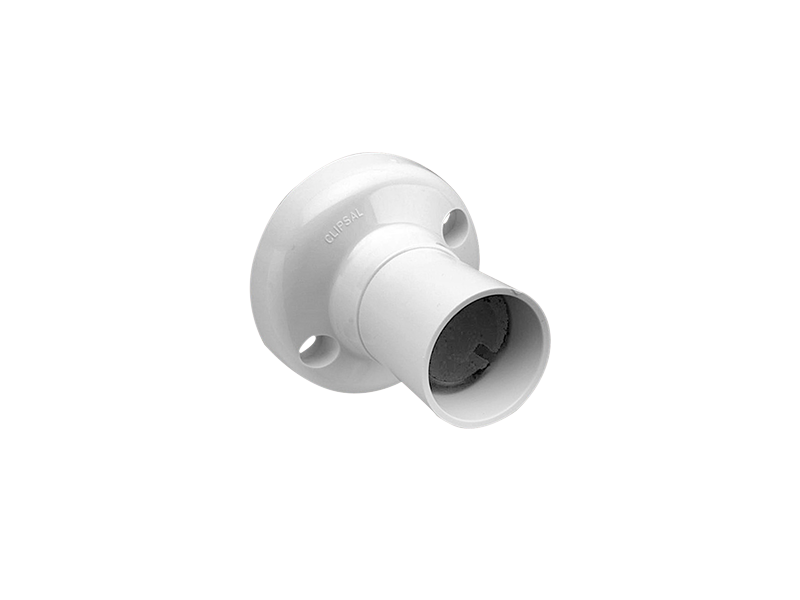 Batten Lamp Holder-: 

This type of holder is fixed over round blocks or wooden boards with 3 wood screws.To connections to the batten holder are given from beneath the round block by drilling two hole then installed on a wall or ceiling.
---
Pendant Lamp Holder-:

 When a holder is made to hang downward from the ceiling rose with flexible wire. It can also hold a lamp shade. These may be brass or Bakelite.
---
Swival Lamp Holder-:

Swivel holder are basically design for controlled wide angle directional lighting which are used for lighting of shop windows. It consists of  a ball and socket joint feeted between back plate and holder of lamp.
---
Angle Lamp Holder-:

Angle holder is used where the the lamp is required to be fixed directly on the wall on round block.The angle holders may be made of brass or Bakelite with brass plunger.The connections to the angle holder are given from behind it through round block.
---
Push-Pull Lamp Holder-:

 When a holder is made to hang downward from the ceiling rose securely then these type of holder is always is used. One of  the greatest things is locking facility shown in these type holder.
--- Bracket Lamp Holder-:

Bracket holder may be given any shape but generally direction of bulb holder is toward floor at some angle. These type of holder is mostly found in govt. buildings The bracket are used made of wood having batten holder fixed at right angle to its length .The holder has the provision to hold the lamp shade.